June 29, 2021
If you have not paid your Supra invoice please do so before Monday, July 5th to avoid a late fee.
Click here to login to your account
Would you like to serve on GJARA's Leadership?  We are looking for members to run for Chair-Elect, Directors and CAR Director.
All applications must be submitted to GJARA no later than July 6th.
Click here for the application
June is RPAC month and GJARA has a new contest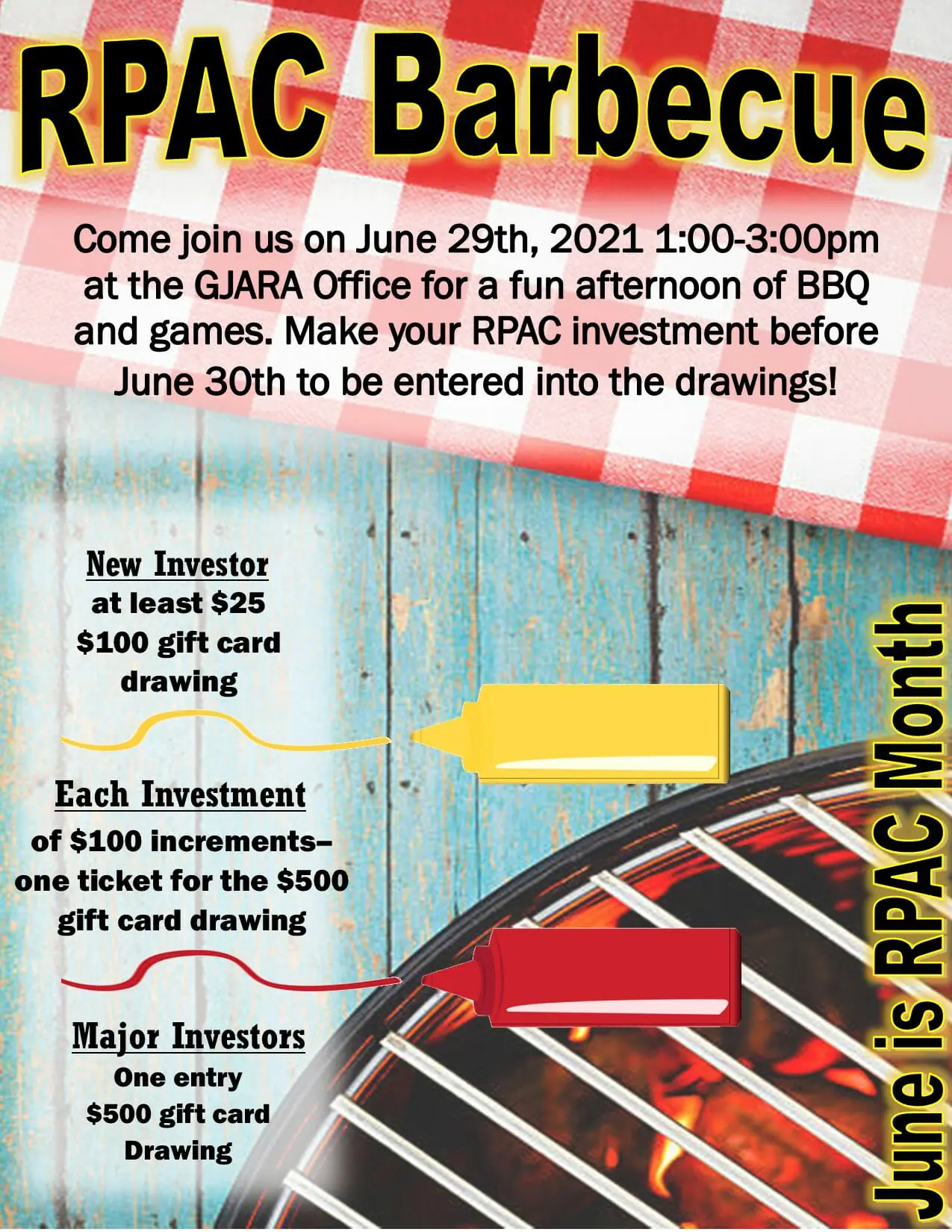 RPAC CHAT
Do you know why you're asked to invest in RPAC? Below are videos from our Major Investors telling you why they are committed to investing.
CAR
LEADERSHIP ACADEMY
CAR is accepting applications for its next Leadership Academy, an exclusive four-month training and development program designed to develop participants' leadership, industry, and association knowledge. REALTOR® members who would like to strengthen their leadership abilities and who are passionate about the industry are encouraged to apply here.
June kicks off RPAC month and what better way to support the REALTORS® Political Action Committee than by playing a good ol' fashion game of BINGO! Don't miss this opportunity to get out in the community, connect with members (new and old), and you just may learn a thing or two!
How to Play:
Purchase a BINGO card for $25 or 5 for $100…all proceeds support RPAC. You have 3 ways to win, as shown below, Classic BINGO, REALTOR® R, or Blackout. All completed cards must be submitted no later than June 30th. All submissions will be entered into a drawing correlated with the board they submit for a chance to win one of the prizes!
Don't miss this opportunity to support RPAC! Click here to sign up for a BINGO card today. Click here for full details, rules, and prizes!

Commitment to Excellence (C2EX) from the National Association of REALTORS® empowers REALTORS® to evaluate, enhance and showcase their highest levels of professionalism. It's not a course, class or designation—it's an Endorsement that REALTORS® can promote when serving clients and other REALTORS®
Check out the latest Legal Bites from Scott Peterson
Membership Changes
New Members
Lori Long, Bray Real Estate
Shelby Cannon, Your Sale, LLC
McKenna Greshon, RE/MAX 4000
Shannon Cassidy, Red Compass Realty
Tammy Himes, Coldwell Banker Distinctive Properties
New Affiliates
Office, Address, MLS Changes
Dana Rowell, REALHome Services and Solutions, MLS only
Robert DiBiase, BRE Services, LLC, MLS only
Julie Suckla, Independent Broker, MLS only
Bruce McCreary, Colorado Home Realty, MLS only
Dawn Standish, Phelps Real Estate Group, MLS only
Kassie Speer, Resident Realty Western Slope, LLC
Scott Miller, Resident Realty Western Slope, LLC
Alicia Iadicicco, Resident Realty Western Slope, LLC
Mary "Raine" Fleming, Resident Realty Western Slope, LLC
Jaclyn Davis, Resident Realty Western Slope, LLC
Jason Carey, Resident Realty Western Slope, LLC
Wendy Ellliott, HomeSmart Realty Partners
Resigning Members
Education
Upcoming Classes
The Education Committee has added new instructors, David Barber who was the State CAR Chair in 2018 and John Wendt who has served on the Real Estate Commission for many years.
We are excited to announce that with the mask mandate lifted and we can accommodate more members in our class room.
Click on the links below to register
CREC Commission update with David Barber July 16, 2021
NAR Code of Ethics with David Barber July 16, 2021
New member orientation July 21, 2021
New member contracts July 22, 2021
New member Ethics July 22, 2021
Disclosure/REALTOR 101 with Ron Sechrist August 18, 2021
Contract class with John Wendt August 27, 2021
NAR Code of Ethics with John Wendt August 27, 2021
CREC Commission Update with Connie Tremblay September 15, 2021
NAR Code of Ethics with Connie Tremblay September 23, 2021
CE Anywhere
Do you need online classes check out what Colorado Association of REALTORS has available.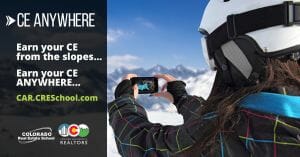 NAR Ethics
NAR requires all members take a minimum of 2.5 hours of Ethics every three year cycle. The current cycle is January 1, 2019 through December 31, 2021. Members must take Ethics in this cycle. Ethics classes taken before January 1, 2019 do not count for this cycle.
When you register for Ethics make sure it is an NAR approved class or it will not count for your Ethics requirement!