May 25, 2021
GJARA News
The GJARA office will closed on Monday, May 31, 2021 in observance  of Memorial Day.
June 1, 2021 Supra annual billing will be emailed out and is due July 1, 2021
CAR
Check out the latest Legal Bites from Scott Peterson
Fair Housing Event
June 16 / Virtual
Join this free opportunity to learn about Fair Housing
The History, A REALTORS® Role, Solutions for teams and Individual Agents, Support and Resources to go forward with the commitment that REALTORS® support Housing for ALL
NAR
Commitment to Excellence (C2EX) from the National Association of REALTORS® empowers REALTORS® to evaluate, enhance and showcase their highest levels of professionalism. It's not a course, class or designation—it's an Endorsement that REALTORS® can promote when serving clients and other REALTORS®

Membership Changes
New Members
Meagan Gallegos, HomeSmart
Jaclyn Davis, Resident Realty North Metro, LLC
Sharon Hytinen, Bray Real Estate
Louise Knight, Keller Williams Colorado West Realty, LLC
Ron Mitchell, Mitchell Real Estate, LLC
Brandy Elliss, eXp Realty, LLC
Amy Ashcraft, Coldwell Banker Distinctive Properties
New Affiliates
Office, Address, MLS Changes
Noah Lara, Keller Williams Colorado West Realty, LLC
Resigning Members
Education
Upcoming Classes
The Education Committee has added new instructors, David Barber who was the State CAR Chair in 2018 and John Wendt who has served on the Real Estate Commission for many years.
Click on the links below to register
CREC Commission update with David Barber July 16, 2021
NAR Code of Ethics with David Barber July 16, 2021
New member orientation July 21, 2021
New member contracts July 22, 2021
New member Ethics July 22, 2021
Disclosure/REALTOR 101 with Ron Sechrist August 18, 2021
Contract class with John Wendt August 27, 2021
NAR Code of Ethics with John Wendt August 27, 2021
CREC Commission Update with Connie Tremblay September 15, 2021
NAR Code of Ethics with Connie Tremblay September 23, 2021
CE Anywhere
Do you need online classes check out what Colorado Association of REALTORS has available.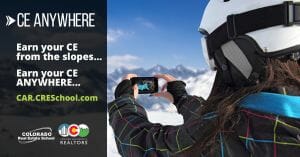 NAR Ethics
NAR requires all members take a minimum of 2.5 hours of Ethics every three year cycle. The current cycle is January 1, 2019 through December 31, 2021. Members must take Ethics in this cycle. Ethics classes taken before January 1, 2019 do not count for this cycle.
When you register for Ethics make sure it is an NAR approved class or it will not count for your Ethics requirement!