March 23, 2021
If it's BLUE, it's a link for you!
GJARA News
GROWTH ZONE LAUNCHING
We are excited to announce our new database GrowthZone will go live this week!
This will not affect our MLS in anyway. You will receive an email with instruction to create your infohub, it is an easy process where you will give your name and email, the system will email you an account activation link that will allow you to create a password.  Within your infohub you can update your contact information, see, and pay invoices, see when you took NAR's Code of Ethics and sign up and cancel events and classes. You will be able to set up a payment profile and save your credit card for autopay. You will also be able to add a picture and a link to your website, this will be important because the information in your infohub will show up in a directory that members and the public will see.
From GrowthZone will be able to communicate with our members and will no longer send out information through Constant Contact. We believe this will improve our communication as a lot of emails went to junk mail.
If you have any questions Judy and Janna will be available to assist you.
Q2 BILLING
Your 2nd Quarter MLS dues billing will go out on Monday April 5th. You will receive an email with your invoice attached or you can pay in your infohub. If you need a hard copy mailed to you please email Janna at janna@gjrealtor.org
WELCOME KYLEE!
Yesterday we added another staff member to the office. Kylee Guy will be answering the phones and assisting with many other duties. She will be in the office Monday through Friday 10:00 am to 2:00 pm.
Please welcome her when you call the board office.
DORA
A division of Real Estate Webinar Series: Employing Broker Responsibilities - Who's Minding the Store?
Tuesday, March 30th at 2:00 pm (Webinar attendance only). There is no CE credit given for this presentation. Space is limited so register today!
Have you ever asked yourself "What exactly is the job of the employing broker? Whether it's you or someone you know, the employing broker has many responsibilities and different levels of supervisory duties that must be adhered to.
Director Marcia Waters will outline the rules and statutes that address specific employing broker responsibilities, offer some industry best practices, share real-life case studies of brokers who came before the Colorado Real Estate Commission for allegations of a failure to supervise, and answer your questions.
CAR
Spring Summit, April 19-21
Registration is now open for the 2021 CAR Virtual Spring Summit. Join us from the comfort of your home or office for engaging sessions designed help you take on 2021! The 2021 CAR Virtual Spring Summit is geared for REALTORS® who want to stay abreast of the latest industry trends, enhance your professional skills, and better serve your clients. Register Now

Membership Changes
New Members
Steve Laugerman, Coldwell Banker Distinctive Properties
James Stafford, Berkshire Hathaway Homeservices Western Colorado Properties
Angelina Kelleghan, Sierra Realty LLC
Matthew Shaffer, Shaffer Real Estate Company
New Affiliates
Office, Address, MLS Changes
Resigning Members
Education
Upcoming Classes
Take a look at the classes and events we have coming up!
As a reminder we are limited to space due to COVID, we can have 25 members in a class and we will take all the necessary precautions. We ask that all attendees wear a mask when entering and walking around, but can remove masks when seated. We have added Zoom classes for our members who have concerns of attending in person classes.
Click on the links below to register
CE Anywhere
Do you need online classes check out what Colorado Association of REALTORS has available.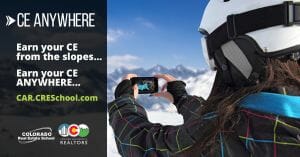 NAR Ethics
NAR requires all members take a minimum of 2.5 hours of Ethics every three year cycle. The current cycle is January 1, 2019 through December 31, 2021. Members must take Ethics in this cycle. Ethics classes taken before January 1, 2019 do not count for this cycle.
When you register for Ethics make sure it is an NAR approved class or it will not count for your Ethics requirement!